Some of my Enterprise Voice customers complained about the short notice that they had to answer an incoming call. They thought the OC stopped ringing after 3-4 rings, and the call was disconnected. After a short troubleshooting session with wireshark, it was easy to see that OCS terminated the call;

And looking at the timestamp it revealed that this happened exactly 20 seconds after the call was offered to OCS.
There is no such setting on both the OCS server environment, as on the Communicator, to set this "ringing time". It should be a very basic setting, you would say.
Another well-heard complaint is that when using "simultanious ring", a caller can't reach the mobile phone voicemail. When using "forward calls", they can.
This "simultanious ring" scenario is as follows;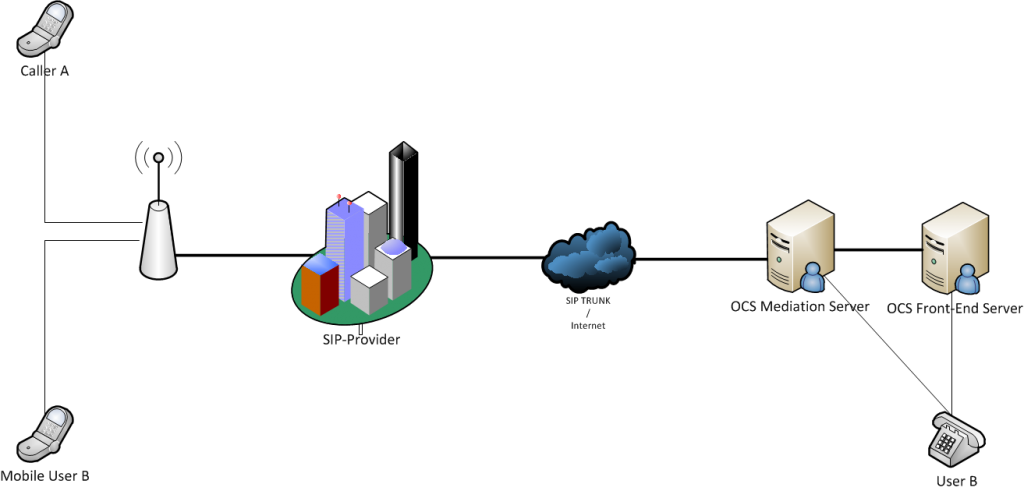 1) Caller A calls "User B" on his DID telephone number.
2) OCS accepts the call, and tries to call User B.
3) it also detectets it has to call the mobile phone, as User B has "simulatinous ring my mobile phone" enabled in Office Communicator. It sets out an outbound call to the Mobile Phone.
4) when one of both endpoints answer the incoming call, OCS will bind the both conversations.
With the knowledge that the Office Communicator drops incoming calls after 20 seconds, another wireshark session revealed it also does this in the "simultaniously ring"-scenario. However, when using a forward, this ringing time is not applicable; it just keeps calling. This is interesting, as it takes 30 seconds for a mobile phone voicemail to kick in. When the call is terminated after 20 seconds – it indeed will never reach the voicemail.
So, now we found the problem, it is time to find a solution to it. Are we able  to extend the ringing time in the Office Communicator, and if so, how?
It didn't take long to get to it.  It is possible to adjust this time, however it is not clearly specified. In the Office Communicator, open the "Call Forwarding Settings". Either by clicking the phone-button, or file > tools > call forwarding settings;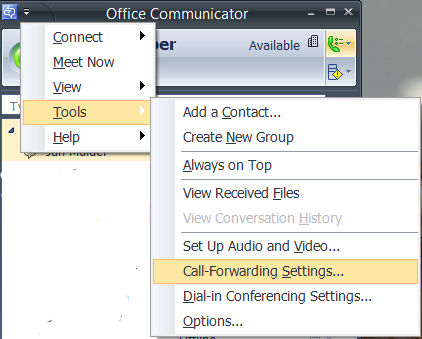 Then, look at the bottom of the window for the "ring for this many seconds before redirecting" setting.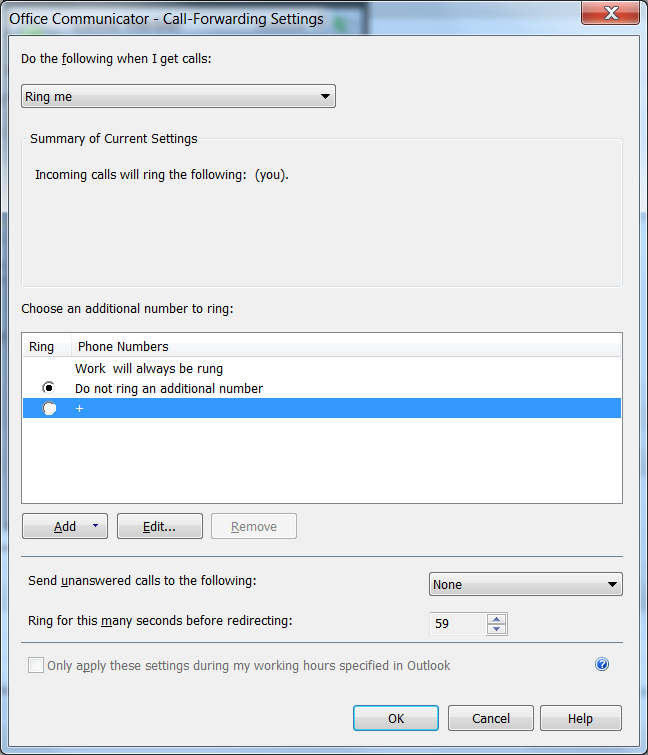 Here you have the "ringing time". However, the description might let you think this is only applicable on a call forward, it is also applicable for ALL incoming calls. The default setting is (guess what) 20 seconds. This is equal to 4 "rings". You can easily adjust this time up to 59 seconds, which, in most cases, should be long enough.
Just use the up and down arrows, and press OK when done. The change is in effect immediately – no re-logon or restart is required.