With Lync 2013, the default logging tool has been replaced by the "Centralised Logging". However, in some situations you might prefer the "OCSLogger" and "Snooper" tools to start a troubleshooting or debugging session.
Therefore, Microsoft has made avaialble a toolkit called "Lync 2013 Debugging Tools" which is already available for a while, and can be downloaded from here: http://www.microsoft.com/en-us/download/details.aspx?id=35453
In some situations however, administrators can't use the logging tool, or at least can't read the messages logged by OCSLogger.exe using the Snooper.exe tool. Instead, one or more errors are displayed instead of the actual logged items, for instance a SIP Trace:

The reason for this is that the debugging tools are assuming the server's date/time format is in English (US), while yours (or at least ours in the example) isn't.
The "fix" for this is relatively easy: Change the servers date/time/number formats to English (US) and re-analyse or re-open the logfile with snooper.exe.
To change the dat/time/number formats, open control panel, regions, and change the preset on the "formats" tab to English (US):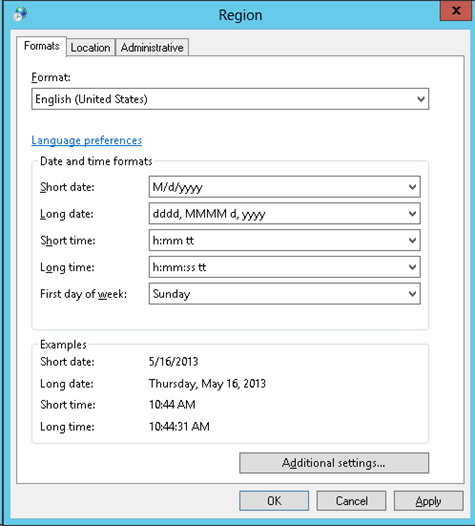 Now, your logfiles, opened by Lync 2013 Snooper.exe tool on the server, will open successfully showing the messages you'd like (or not like) to see!