On some occasions, when you try to install a Lync Server on Windows Server 2008 R2, you'll receive an error message stating that one of the prerequisites failed to install: Wmf2008R2. It was already known that sometimes this installer needs a reboot; now it is failing completely.
The installer fails with exit code "3";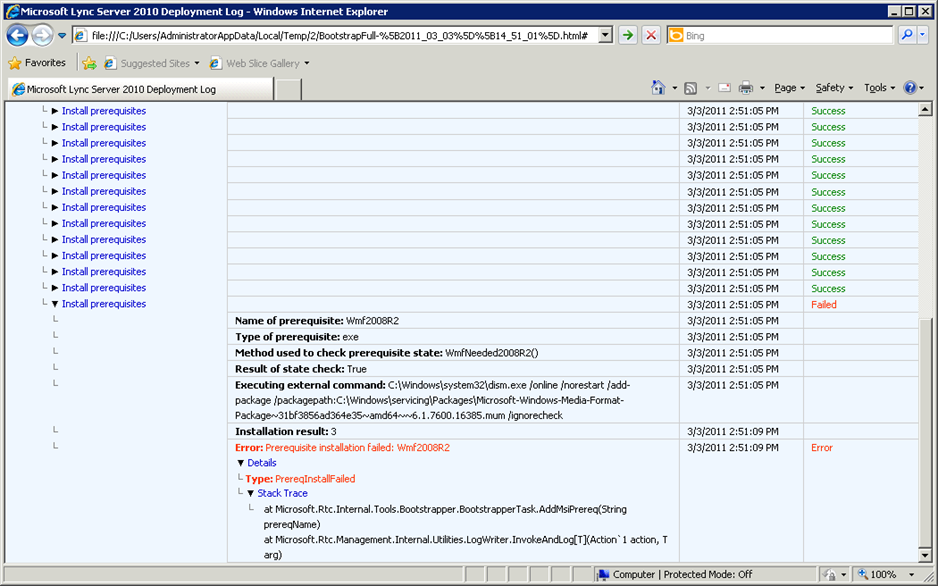 The actual problem is, that it can't find the correct "MUM" file mentioned in the install command. It has been replaced by some update with a newer version.
Microsoft has released this issue in KB 2522454. The official workarround is to run the following command prior running the lync components installer;
%systemroot%\system32\dism.exe /online /add-package /packagepath:%windir%\servicing\Packages\Microsoft-Windows-Media-Format-Package~31bf3856ad364e35~amd64~~6.1.7601.17514.mum /ignorecheck
Actually, this is just installing the same prerequisite, but with the correct command line instead of the incorrect one used in the Lync setup. Afterwards, a reboot may be required. After the reboot, run the lync components installer, and it will detect this prerequisite as installed, and will continue as expected.