One other cosmetical complaint I sometimes hear from my customers, is the new task bar view behaviour of the Lync Client in Windows 7. Like other programs, new conversation windows will be "stacked" behind the Lync-logo in the task bar. Also, when you close the conversations, Lync will remain active in the task bar. If you like a clean task bar, this is not a wanted behaviour; but leave the lync/commonicator icon in the system tray instead.
To get this done, is relatively simple, you just have to know it;
Go to start -> all programs -> Microsoft Lync

Right-click "Microsoft Lync 2010" and choose "properties"
Go to the "compatibility" tab, and check the  "run this program in compatibility mode for:" and leave the Windows XP selected.

Press OK.
Now, restart your computer –  or – close Microsoft Lync by file -> exit in the main Lync console, and re-start the Lync client.
Now, Lync will just start in the system tray. When you don't see the Lync/Communicator icon in the system tray, press the little

icon. In the pop-up menu, you will see the Lync icon.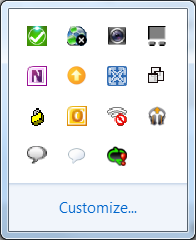 If you want this to "stick" to the system tray, drag the icon to the desired location, and it will stick:

Update:
The same behaviour is available natively in the Lync 2010 client now for some time. I can't recall since what update this is, but at the moment of writing, it was not available to me. Now, similiar behaviour can be much easier achieved:
To minimise Microsoft Lync to the system tray instead of the task bar, from the small gear Shaped setting dropdown, go to Tools > Options.
From the General section, check the "Minimize to the notification area instead of the task bar", checkbox and click ok.

Some users experience issues when using the "XP Mode" option described above. For instance, Outlook 2010 and Lync 2010 both want to use profile.ost which leads to failure of one or another. Also, I saw issues with call quality when using XP Mode.
My advise is to use the checkbox when available, if not update the client. If not still not possible, only use XP mode if the icon on the task bar really annoys you 🙂